Sightseeing Trips & Tours
At Viscount Cruises we have a wide range of options for sightseeing on the River Thames in London. We operate a daily service with Thames River Sightseeing calling at Westminster Pier, St. Katharine Pier (for the Tower of London) & Greenwich Pier (for the Cutty Sark & Royal Museums Greenwich). Between April-October Thames River Sightseeing also operate cruises to the Thames Flood Barrier, the 2nd largest movable flood barrier in the world.
We also operate our popular 2-Hour Sunday Evening Cruise from Greenwich Pier. Sunday Evening Cruise operates every Sunday during May, June, July, August & September.

Our fleet of modern & traditional vessels are also available for private charters with a range of bar services & catering options. We can operate private sightseeing cruises from numerous piers on the River Thames including Westminster, Waterloo (London Eye), Tower Pier, Greenwich Pier & Barrier Gardens Pier (near the Thames Barrier Information Centre).
Una visita a Londra non è completa senza una crociera sul Tamigi. Thames River Sightseeing offre servizi regolari da sei moli sul fiume Tamigi tra cui Westminster Pier, Embankment Pier, Tower Bridge Quay (Molo di Santa Caterina) e molo di Greenwich. Thames River Sightseeing opera 361 giorni all'anno con una flotta di navi per tutte le stagioni con ampi ponti aperti perfetti per i mesi estivi e saloni riscaldati con finestre panoramiche per i mesi più freddi. Le navi vanno dalle più tradizionali navi passeggeri del Tamigi (London Rose) a navi più moderne costruite appositamente per il fiume Tamigi (Thomas Doggett). Una crociera tra Westminster e Tower Bridge Quay dura solo 30-40 minuti e passa per numerosi monumenti di Londra, incluso il Nuovo Palazzo di Westminster (Camere del Parlamento), the London Eye, the Tower of London, Tower Bridge, the Shard, London Bridge & Tower Bridge.
Passengers can embark at Westminster Pier, Embankment Pier, Festival Pier, Bankside Pier, Tower Bridge Quay or Greenwich & take advantage of a range of ticketing options. Single tickets are suited for day trippers or passengers travelling in or out of London & return tickets allow passengers to disembark & explore before joining a return sailing later the same day. A 2 Day River Pass is the perfect option for anyone visiting London over multiple days. A River Pass allows unlimited travel on our services for just £21.00 per adult, a family River Pass is just £42.00 (per 2 Adulti + 3 Bambini).
Thames River Sightseeing offre anche eccellenti tariffe e sconti per gruppi, perfetti per famiglie, compagnie turistiche o operatori turistici. Servizi igienici e un'audioguida multilingue sono disponibili su tutte le partenze. L'audioguida multilingue è un commento informativo disponibile tramite il nostro Wi-Fi di bordo in inglese, francese, tedesco, italiano, spagnolo o mandarino (Dispositivo intelligente e cuffie non sono forniti, Leggi di più).
We have been operating our 2-Hour Sunday Evening Cruise for over 30 years, it's London's oldest evening cruise & departs from Greenwich Pier (by the Cutty Sark) every Sunday from May until September. Our evening cruises operate from 19:00 – 21:00 during May, June, July & August & 18:30 – 20:30 in September. The cruise travels upriver from the Royal Borough of Greenwich, passing Docklands & underneath Tower Bridge before cruising through the City of London & City of Westminster. We travel as far as time & tide allow before turning & cruising back to Greenwich.
Groups & Private Charters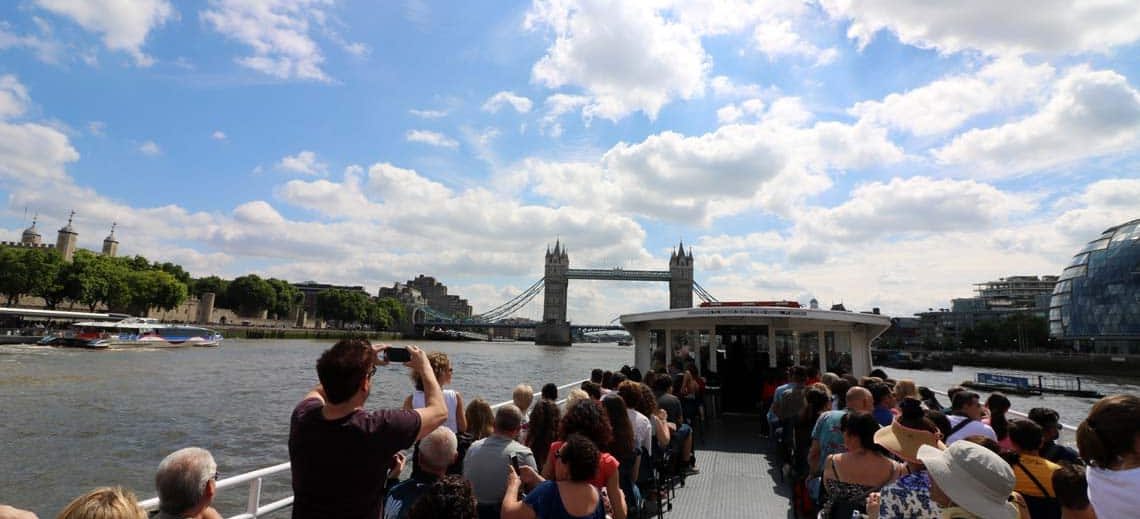 All of our passenger boats are available for private charter for sightseeing tours and other events. Our Class V vessels, Avontuur IV & London Rose have heated interiors, spacious open decks and fully licensed bars serving alcoholic, soft & hot beverages.
Our executive launch, M.V Churchill can carry 12 passengers for more intimate charters & sightseeing tours.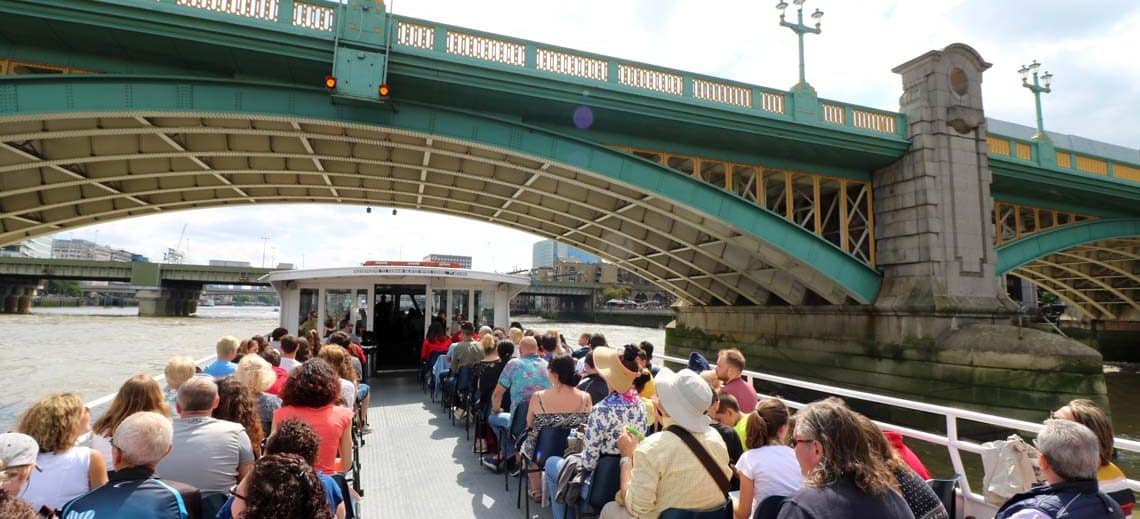 We offer a 10% discount for groups of 10 or more passengers on our daytime sightseeing tours with Thames River Services & on our Sunday Evening Cruises.